Financing for Technology Providers
Do you need help finding a small business loan or working capital for your marketing, information technology related business? Looking to expand your team, build new applications, purchase software, assets, equipment or even an entire competing IT business? As a division of SEARCHEN NETWORKS, Business Union Capital can help you find a lender who will fund a loan for your business to grow and expand.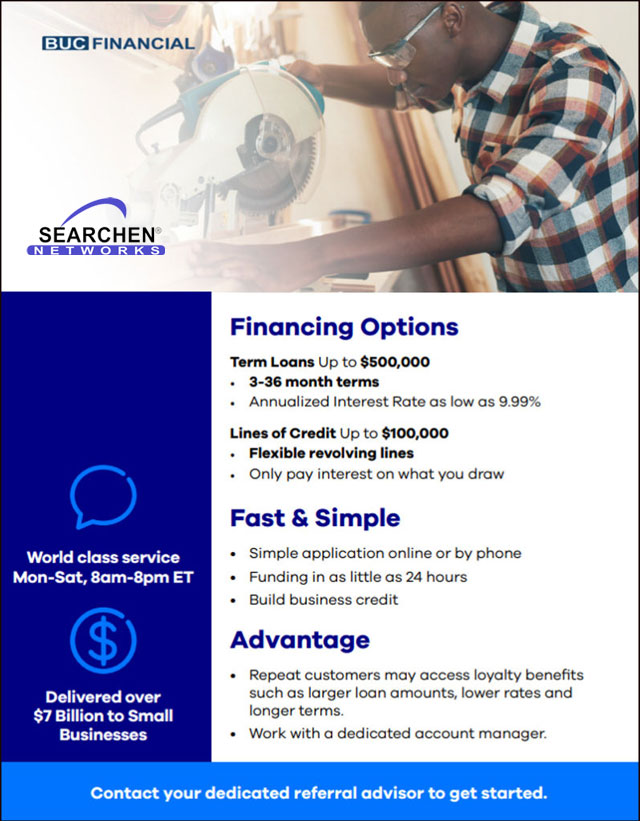 Even the most responsible and well-run businesses can benefit from having a constant and ready line of credit available for meeting short term crunches, especially in the early stages of your business. As a full-service business consulting firm, our financing working with small business owners to secure funding, even if a small business is a sole proprietorship.
Our company has partnered with the same companies we used for our own term loans and lines of credit and are extremely experienced with the application and screening process and can provide you with an answer to your small business financing needs often within one day of submitting an online questioner and validating your businesses last three bank statements.
If you have been considering, or even searching for a financing solution to grow your business, feel free to contact us to help you with the very simple process of getting qualified for your business's financial needs. Applications can be completed online at www.buc.org or you can call us for more information.
Additionally, we offer a referral program that will pay businesses 2% of the amount of an approved loan to any referring business who is approved, so even if you do not need a loan, yet know a business owner would be interesting in finding a source of financing who you believe meets the basic qualifications you could refer that business owner for a commission.
Feel free to contact us if you have a referral.
Most businesses which are approved for loans have:
A minimum of $1,000.00 in their business checking account always.
A minimum of 1 year in business.
An owner of the company with at least a 500 FICO score (decent).
No bankruptcy or foreclosures filed in at least the last two years.
The business brought in at least $8,500.00 in the last 90 days.
Some portion of auto recurring income.
These loans are generally used for the following:
Acquire an existing business or competitor.
Purchase software.
Invest in technology or equipment.
Expand facilities.
Advertise.
Hire staff.
Support operations.
Meet obligations.
Pay taxes.
Handle unexpected expenses.
Feel free to request more information or call us right now at 561-370-7366 for a free strategic consultation.