Registering Domain Names, Step by Step Guide
Registering a domain name is the first step of owning your online identity and website. The domain name is the URL or website address which people have become accustomed to beginning with "www" and in most cases ending in ".com" but there are many other alternatives such as ".net" and ".org" which are the most popular. If you are starting an ordinary commercial business, try to get a ".com" domain name. If you have a charity or non-profit, a ".org" can be a good choice as they are popular alternatives, however, even if you get a ".org" domain name, it is a best practice to also secure the ".com" version because most people will just assume the name ends with ".com" so try to have that one always.
The first thing you need to do is to check the availability of the name you would like to use. It's also a good practice to use keywords which are associated with your business. It could be more beneficial to have an exact match domain name for your industry. If your company name is "ABC Consulting Inc." a great name would be "ABCConsulting.com", but if your business does "computer consulting" an exceptional exact match domain name such as "ComputerConsulting.com" would be fantastic and would probably make your business rank really well in search engines when people searched for "computer consulting" so you should decide which is better for you or more economical. In many cases, a name such as "ComputerConsulting.com" will already be taken and not available for registration, however, it is possible to be presented with premium names in the "aftermarket" which are for sale for higher prices by their current owners.
To search for domain names which are available for registration visit www.RegisterYourDomains.com. When you visit the site you will be presented with the homepage and a large search box to find your preferred domain name and check availability.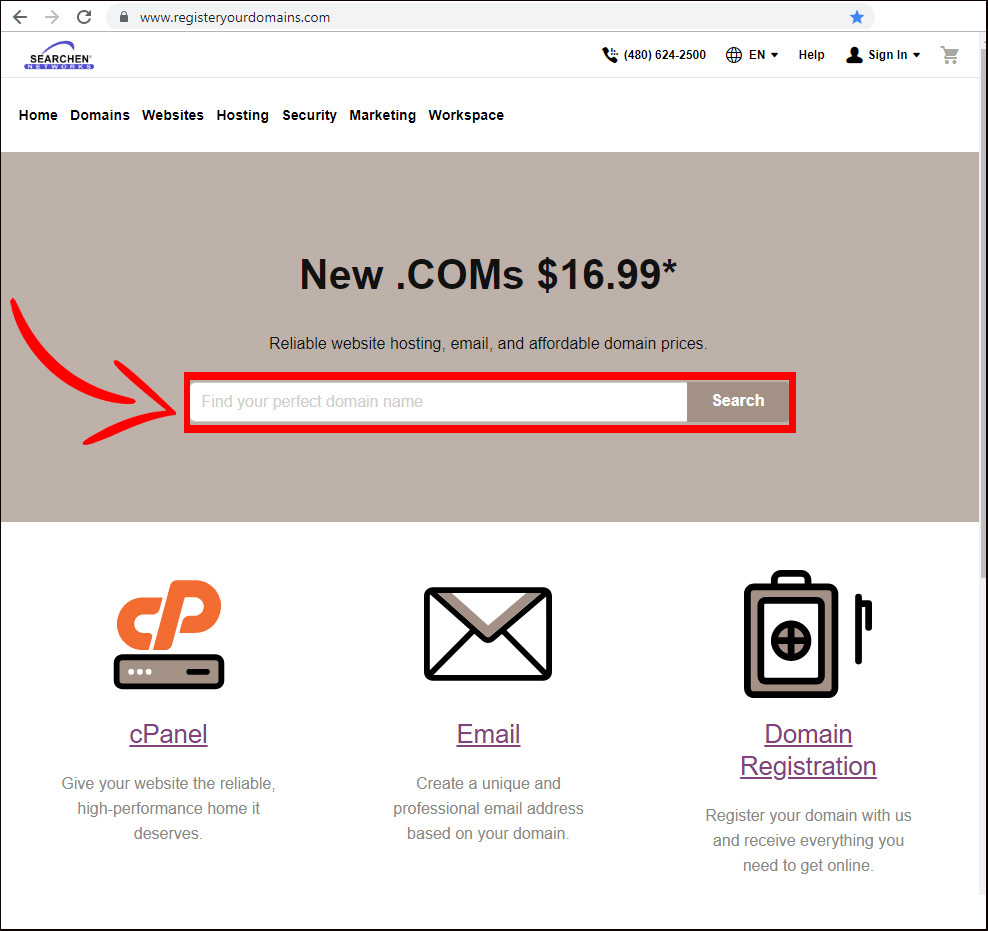 If the domain name you want is already taken you will see the notification as such. You will be presented with other available alternatives including different spellings and different extensions. You should continue to search until you find the exact name that you want.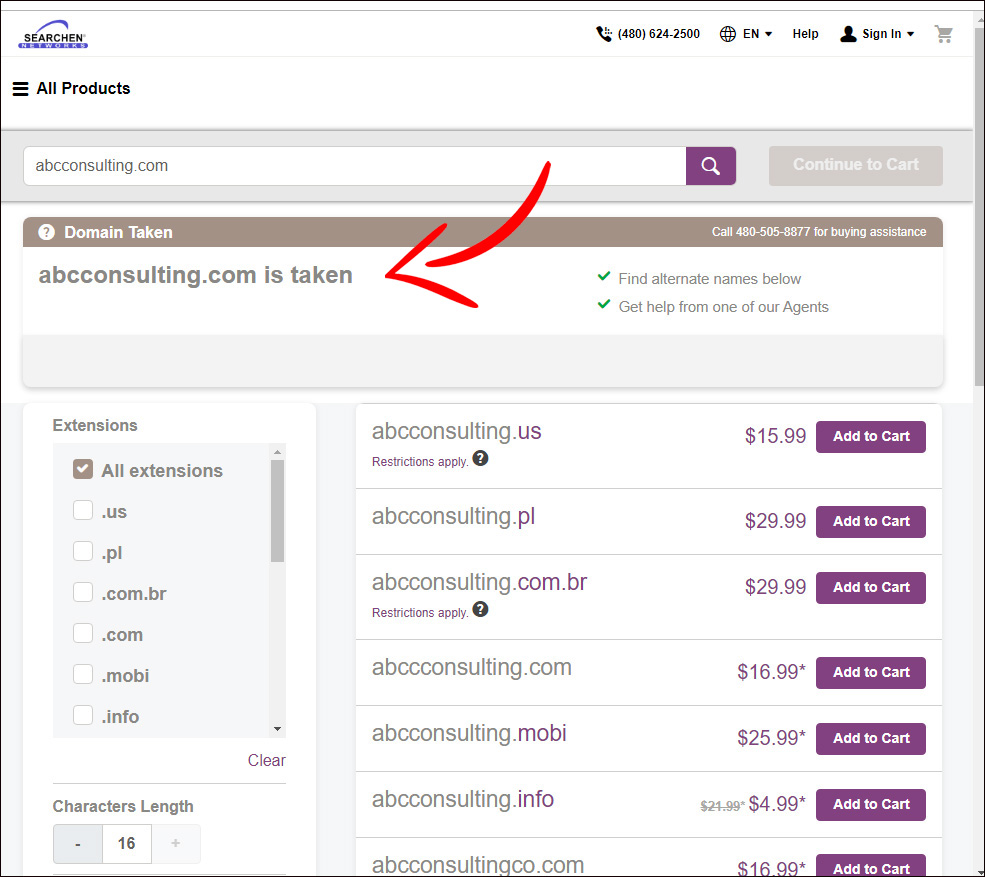 As you can see in the above result, the domain "abcconsulting.com" is already taken and there is a message there letting you know. The system is also presenting alternatives and the associated prices with those domain names. Each name must be paid for and then renewed each year to extend the name for an additional year. The maximum number of years you can register a single domain for is 10 years consecutively. The minimum is one year, and you should expect to pay between $10 and $20 per year on average.
In this instance above it appears to be a good choice to run another search to see if your second choice name is available for registration.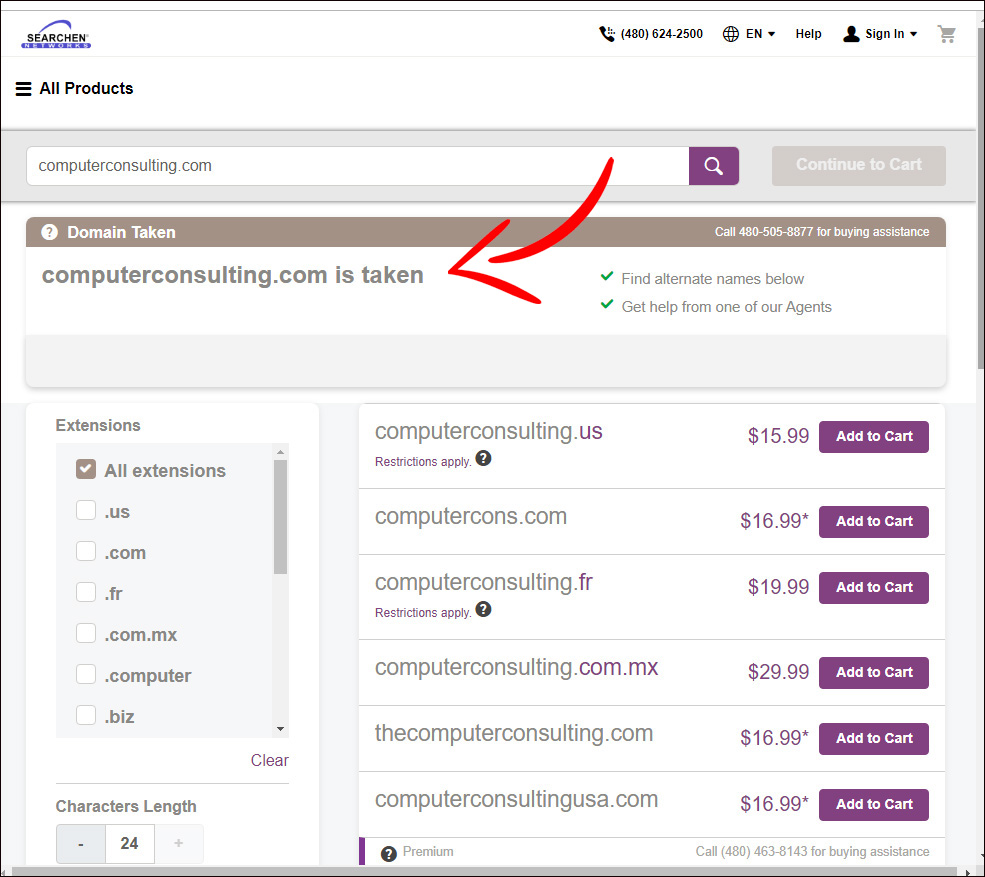 Again, the name that we want in our second search attempt "ComputerConsulting.com" is again taken. Let's give it another shot adding an additional word to the mix.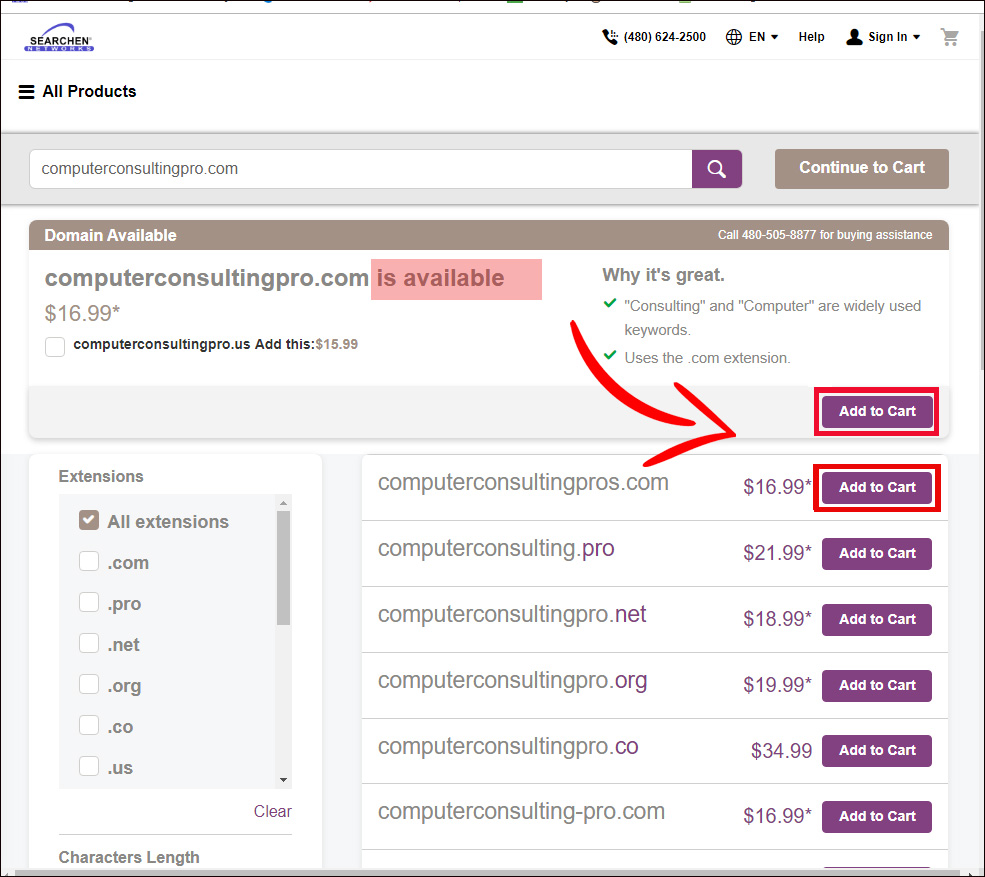 Nice! In this example, we got one. "ComputerConsultingPro.com" is available. The system is also suggesting the plural version, "ComputerConsultingPros.com" which would be a good idea to grab both so if anyone types the plural or the non-plural, or vice-versa, both will work and bring them to your site. Don't worry, you won't have to build two different websites; You will use "ComputerConultingPro.com" as your website, and you will use the free domain forwarding feature to "point" or " "re-direct" "ConputerConsultingPros.com" to the main site "ComputerConsultingPro.com" which is set up in the domain account after you purchase the names for $16.99 each as shown in the example. Click the purple "Add to Cart" buttons to put both in your shopping cart. If you only want one, choose the one you want most and then click to add it to your cart. Then click "Continue to Cart."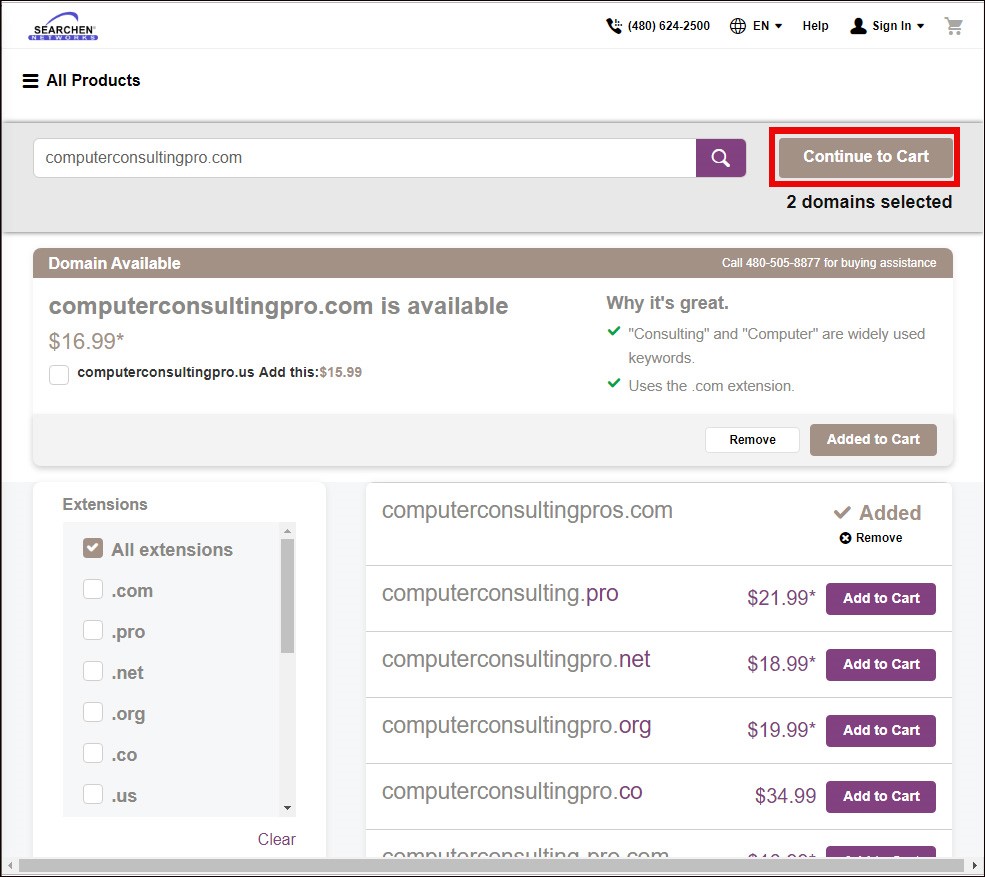 The system will now attempt to "up-sell" you a private registration. You probably will not need this. Private registration prevents people from knowing who exactly owns the domain name. It's become very difficult to find out anyway due to new privacy policies and data regulations, but it is still possible to find out. If for some reason you would like to prevent anyone from knowing you own the domain name(s) you might want to purchase the private registration, but if you do not just mark-off "No Thanks" and click the "Continue to Cart" button. Of course, in case you did want the private registration, choose which one you want based on the features and prices shown and then click the "Continue to Cart" button.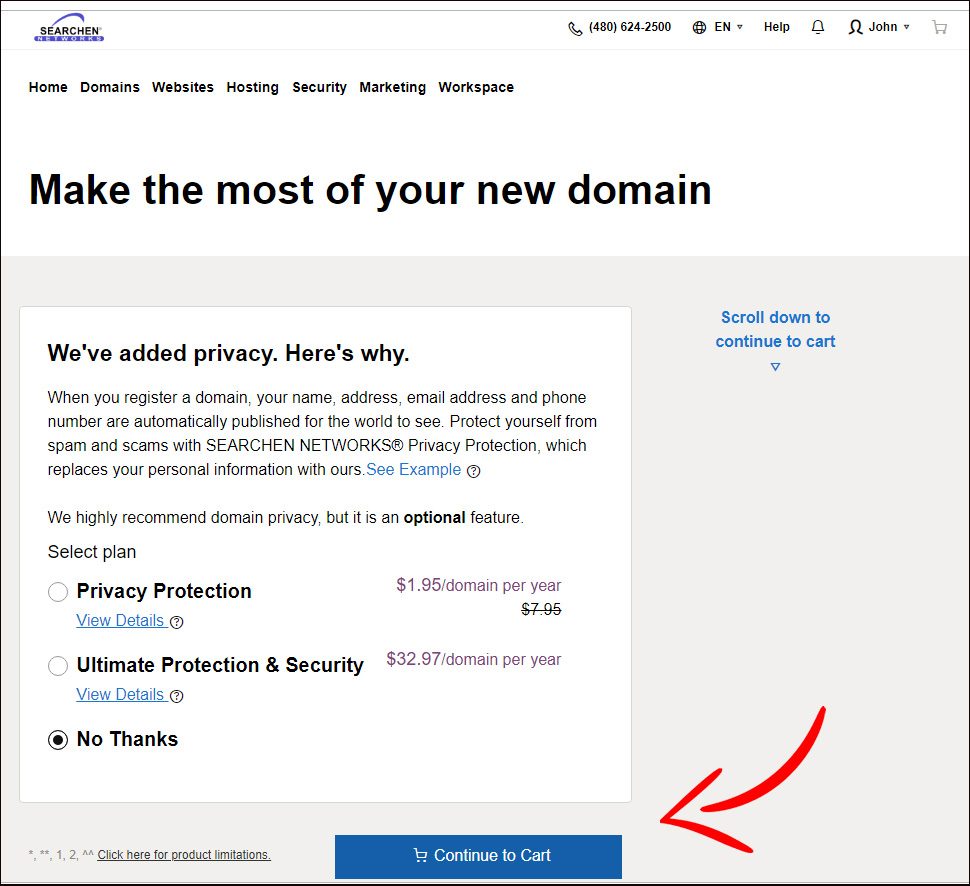 By default, or automatically, the system will try to suggest you pay for two years at a time. You can choose to do that, where the cost will be for two years of registration, or you can select the drop-down box as in the example below and just choose the minimum single year registration.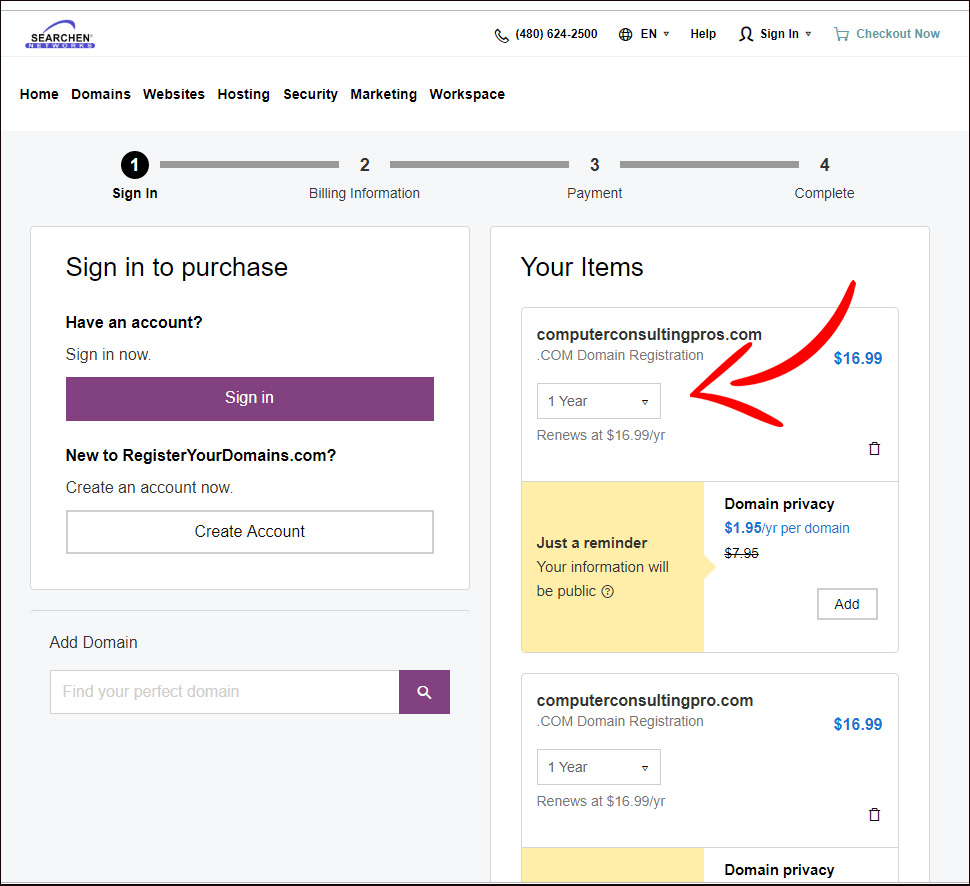 If you are a brand-new customer, which you likely are, you will want to create an account by clicking on the "Create Account" button. If you were a current customer, you would simply sign in. Let's assume you are a new customer and click on the "Create Account" button to enter in your customer details.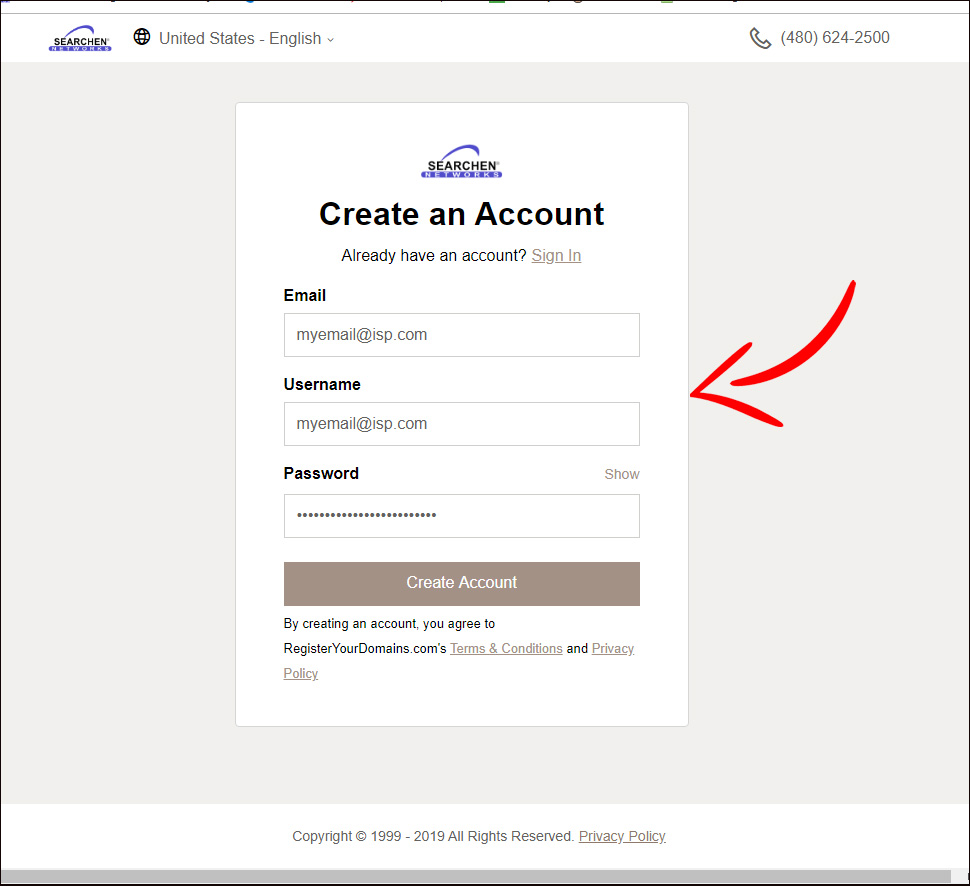 Go ahead and enter your email address, choose a username and create a password for your account. By creating an account, you are agreeing to the terms of service and privacy policy so you can click those associated links to read those policies and then click on "Create Account" to go to the next page. As in the example, you can use your email address as your username, or you can choose something else.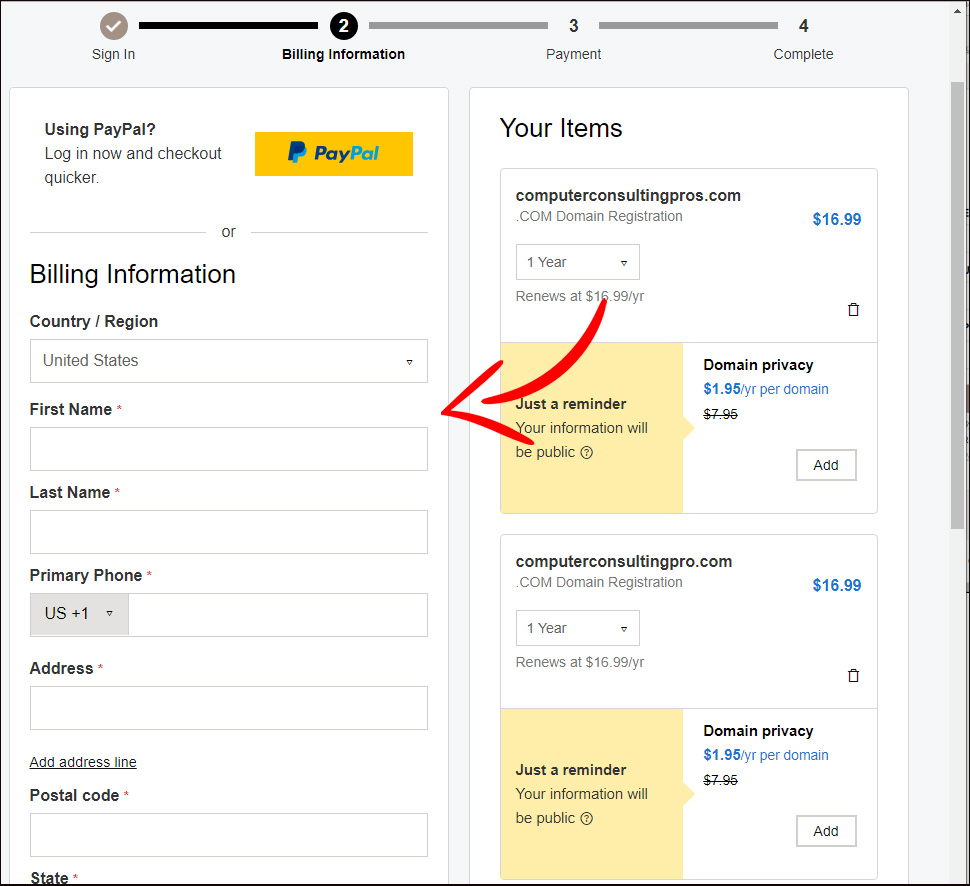 You can now enter in your billing information and check out. After your billing and payment information are all entered you can then visit your account and see your domain names are inside your account.
Congratulations, you now own your very own domain name(s) and website address(es) and as long as you pay your minimum registration fee each year, you will always own those names and you can use them for whatever you want; point them to another site, build your own website, or use them for custom email. If you have questions on what you can or can't do now that you own your own domain names just call in to the support phone number listed and there are support executives that will help put your domain names to use, but the ownership process is complete.