Facebook Marketing for Small Business
Facebook is one of the largest websites in the world entertaining billions of people every day (2.41 billion users as of Q2 2019). In fact, most people now get the majority of their information from Facebook; from news, to recommendations, reviews and more without ever leaving the site. Facebook also tracks its users interests while using the website as well as when these users leave and visit other websites on the Internet. For example, Facebook installs a cookie on users' browsers and monitors its users both on and off Facebook for the sole purpose of identifying these users interests so that the social networking giant can strategically serve ads to highly targeted audiences.
Business advertisers can take advantage of this vast targeting by marketing to Facebook users with videos, promoted posts, even lead capture forms where users are willing to provide their contact information when an advertiser's message interests them. These leads are sent directly to advertisers. Additionally, there are many ways to grow your page following (keeping you connected with customers) by increasing likes and shares of your businesses page with many options being extremely affordable when compared to other advertising mediums. Advertisers can run one or several ads at a time and push harder on ads which garner a greater response.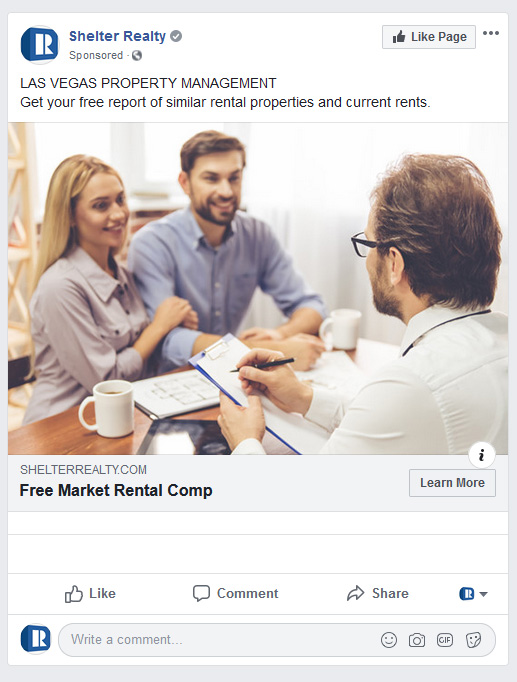 If you are not yet advertising on Facebook, we can help you build your Facebook branded page and start running ads to extremely targeted audiences. No website knows its users and interests like Facebook, and there is a battle going on between two advertising giants, Google and Facebook in the online advertising space. Facebook holds an incredible advantage over Google as Facebook users are willing to share an unusual amount of information with Facebook whether they are aware of it or not. It's all cooked into Facebook's terms of services and users are sharing not only their lives on Facebook, but their loves, their likes, their interests, places they visit in the physical world through their phone, etc.
Additionally, Facebook also owns Instagram, another leading social networking website with over one billion monthly active users (as of June 2018), and with a click of a button, Facebook ads can also appear on Instagram targeting those users as well.
We have created hundreds of Facebook ad campaigns for clients with more and more advertisers finding Facebook to be a successful means of capturing new leads and customers. Contact us today to find out about creating or improving your Facebook business page and how we can use Facebook's advertising programs to capture more business for you while building an audience that will stay connected with your brand over time.
Reliable Social Media Services
https://www.reliablesocialmediaservices.com
Feel free to request more information or call us right now at 561-370-7366 for a free strategic consultation.