Online Advertising & Promotion
If you are a small business and are looking to get started in online advertising there are a lot of options to take advantage of – too many in fact and easing in will be necessary to get started. Many companies understand that the Internet is where all the action is, and this has never been more accurate than right now. Almost every business is moving their advertising efforts towards the web. Whether it be Facebook, Google, LinkedIn, or niche-relevant websites where your business can be highlighted, consumers are searching for what they need on the Internet, from their desktop, from their tablet, from their phone – wherever they are. The good news is, roughly 50% of local searches result in an in-store visit and/or purchase (study).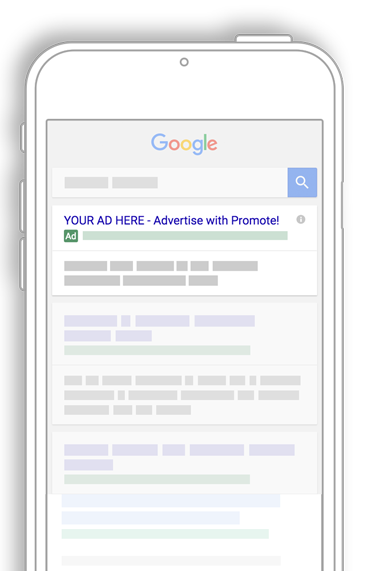 Getting started can seem very complicated, and that's because, in most cases, if online advertising is new to you and your business, its is, in-fact, complicated. There are very many options to choose from. For example, most small businesses do not understand the difference between natural search engine rankings and sponsored search results – and that's just the beginning of some of the best and most effective ways to be found online. Further more, not knowing the difference is just fine. You know your business and we know ours. We have been promoting small businesses on the Internet since Google began to get started in the advertising business in the early 2000s.
Add-on the complexities of social media advertising and other web promotion processes, as well as figuring out which social networks are best for your type of business, only ads more questions, and when there are questions, there is confusion, and with confusion comes uncertainly; ultimately with uncertainly comes hesitation. The worst thing a small business can do when it is in need of learning how to get started on the Internet, is to do nothing. We understand this hesitation and process and work with our clients day-in and day-out to help them understand what advertising and promotional methods will be used, and most importantly, why we believe those marketing efforts will be most effective for their types of business.
One of the things our clients specifically appreciate is the time we take to thoroughly explain our processes and where exactly their advertising budgets are being spent; what methods are being used and exactly where their advertising dollars are going. Online advertising is an investment in your business and with all investments, getting started is a learning process where you become experienced and understand better over time, from experience, and when seeing processes produce results. Our staff is here to help explain how best to promote your business and how to effectively capture the type of interest your business requires.
Some businesses are looking for new client phone calls while other businesses prefer email. Some businesses are looking to sell their product or service online, with little to no consumer-business interaction. Some businesses just want lead generation in any form; SEO, content marketing, social media, video marketing, etc., while others are simply looking for new members, subscribers or downloads of digital products. Every business is different, and our team is here to help small businesses wade through the convoluted process of figuring everything out. That's what we do, near 365 days a year; facilitating all forms of online advertising.
Call us today and tell about your business. We want to know how your business works and how you generate new business now and how you have been doing so since the start of your business. Together we will figure-out the best and most productive, not to mention, the most cost-effective ways to generate your type of sales, or type of leads you need, based on your industry, size of your business and the budget that you're most comfortable with. Our team is here to work with you and for you; to figure out how to best grow your business, using online advertising and online promotional processes.
Feel free to request more information or call us right now at 561-370-7366 for a free strategic consultation.